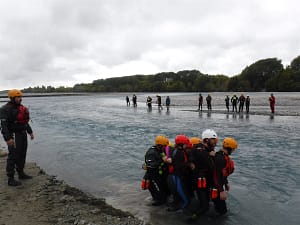 This 8 hour online course is aimed at those who plan to attend a Swiftwater Responder course and complete theory requirements prior. The course is useful to emergency service workers who may be responded to a flood or swiftwater rescue incident.
This online course covers the following: River and flood hydrology, environmental care and biosecurity considerations, swiftwater and flood hazard management, laws affecting rescue and safe work, signals and communications, swiftwater swimming, shallow water crossing, use of throw-bags, vehicle drowning prevention and escape, culvert and storm drain rescue, medical considerations, swiftwater rescuer personal protective equipment, weather and river level monitoring, managing night operations, incident command tactics, knots, anchors, inflatable fire hose, basic rope and swiftwater equipment, decontamination, shore based rescue techniques including vehicle stabilization and cinches, management of animals in disaster, river search strategies and more.
A digital certificate is issued upon completion of the course and quiz.