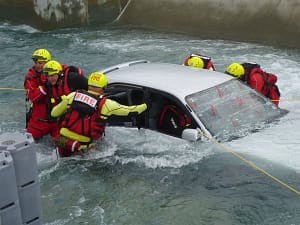 e-SRTV® is the online element of the proprietary course SRTV®: Swiftwater Rescue Technician Vehicle. 
Pre-requisite: PSI Swiftwater Responder to Technician Upgrade
This 5 hour online course is aimed at swiftwater operators wanting to learn more about rescues from vehicles in swift and flood water environments.
Learning objectives
This online course covers the following:
Myth busting
Vehicle behaviour
Escape tactics
Rescue phases
Rescuer PPE
Emerging technology
Hydrology
Animal rescue
Preventative SAR
Dispatcher protocols
Operations Level techniques
Technician Level techniques
A digital certificate is issued upon completion of the course and quiz, and students can then use the post-nominal "e-SRTV®".
SRTV® is trademark protected and is licensed to Public Safety Institute for exclusive use in New Zealand.
Next Steps
Once the student has completed this online course, they can complete their certification through an approved practical course with an accredited PSI Instructor. Upon successful completion of the course, the student is entitled to use the SRTV® postnominal and any officially supplied branded apparel and patches. Organisations wishing to use the SRTV® trademark should contact us for further advice.